Science
Technology
Industry
Saule Research Institute is an international hub of scientists focused on research in the field of optoelectronics, understanding the importance of applied science and their related fundamental aspects, as inseparable ingredients of successful R&D processes.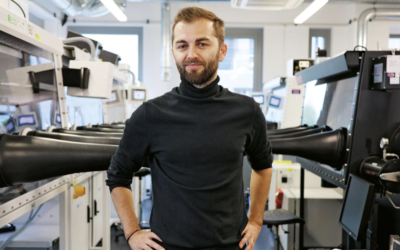 We encourage you to read the interview with Dr Konrad Wojciechowski published in the Polish weekly magazine Polityka. In it, you will read about the creation of stable and durable photovoltaic cells that can replace silicon cells. The interview is available here in...
Optoelectronics is the interdisciplinary field of science and technology that enables the fabrication of electronic devices that control, detect or emit electromagnetic radiation. This rapidly advancing area has supplied the key enabling technologies to many aspects of our everyday life, such as portable electronics, wireless communication, certain medical examination techniques or enabling to harvest solar energy. Optoelectronics holds the promise to decrease the size of conventional technologies, increase their efficiency and data processing speed, and facilitates the implementation of new applications. Being one of the hottest topics of research, this field gathers impactful scientists from the best universities and research centres from all around the world.
Electronics
Controlling electronic energy, designing circuit elements with appropriate functionality and electrical response.
Photonics
Controlling electromagnetic radiation, modelling and developing material structures that absorb or emit light with a given energy or spectrum.
Materials science
Developing materials with special properties, and engineering deposition methods to meet device requirements.
Subscribe to our mailing list to get news, updates and open positions alerts
Check latest open positions and join our team!
Research unit: Foundation of Saule Research Institute Position: Postdoctoral Fellow The Foundation of Saule Research Institute has an opening for a Postdoctoral position to participate in a research project funded by National Science Center. The primary objective of...
Position in the project: PhD candidate Project description: Inkjet printing of lead-free perovskite materials for application in solar cell devices Job type: Scholarship Start date: 15.01.2020 Institution: Saule Research Institute Foundation Location: Wrocław, Poland...